The three-tier G-series chipsets made by Qualcomm for portable gaming consoles were publicly unveiled. The Snapdragon G1 Gen 1 is designed for fanless game streaming handhelds and has a battery life of more than 10 hours. Along with Bluetooth 5.0 and Wi-Fi 5, it has an eight-core Kryo CPU and Adreno A11 GPU. The chipset supports 720p displays running at 60 frames per second.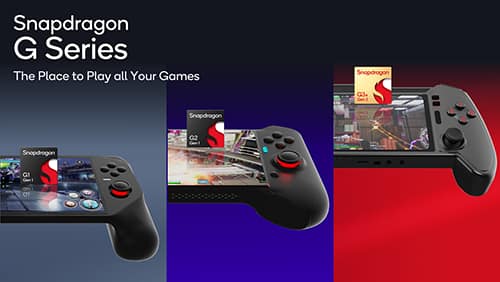 With the same eight-core Kryo CPU and a more potent Adreno A21 GPU, Snapdragon G2 Gen1 will power handhelds intended for mobile and cloud gaming. The Snapdragon X62 5G modem also adds Wi-Fi 6/6E and 5G connection for the G2 series. The chip can support FHD+ displays at 144 frames per second.
The Razer Edge 5G is already powered by the Snapdragon G3x Gen1, which is being updated with the latest Snapdragon G3x Gen 2. The new top-of-the-line G-series chipset will power the industry's leading handhelds that promise to give PC-quality gaming on the move. Eight-core Kryo CPU in G3x Gen 2 is almost 30% quicker than that in G3x Gen 1. The chip also includes a brand-new Adreno A32 GPU, which promises to perform twice as well as its forerunner.
Ray tracing, Wi-Fi 7, and 5G connectivity are all supported by Snapdragon G3x Gen 2. The chip supports stereo haptics and PCIe Gen 4 SSD, and it can handle FHD+ displays at up to 144 frames per second.
Later this year, new gaming handhelds using Snapdragon G-series chipsets will be available thanks to a partnership between Qualcomm and AyaNeo, Huaqin, Inventec, Thundercomm, and other handheld gaming businesses.